Mish's Secret World of Turquoise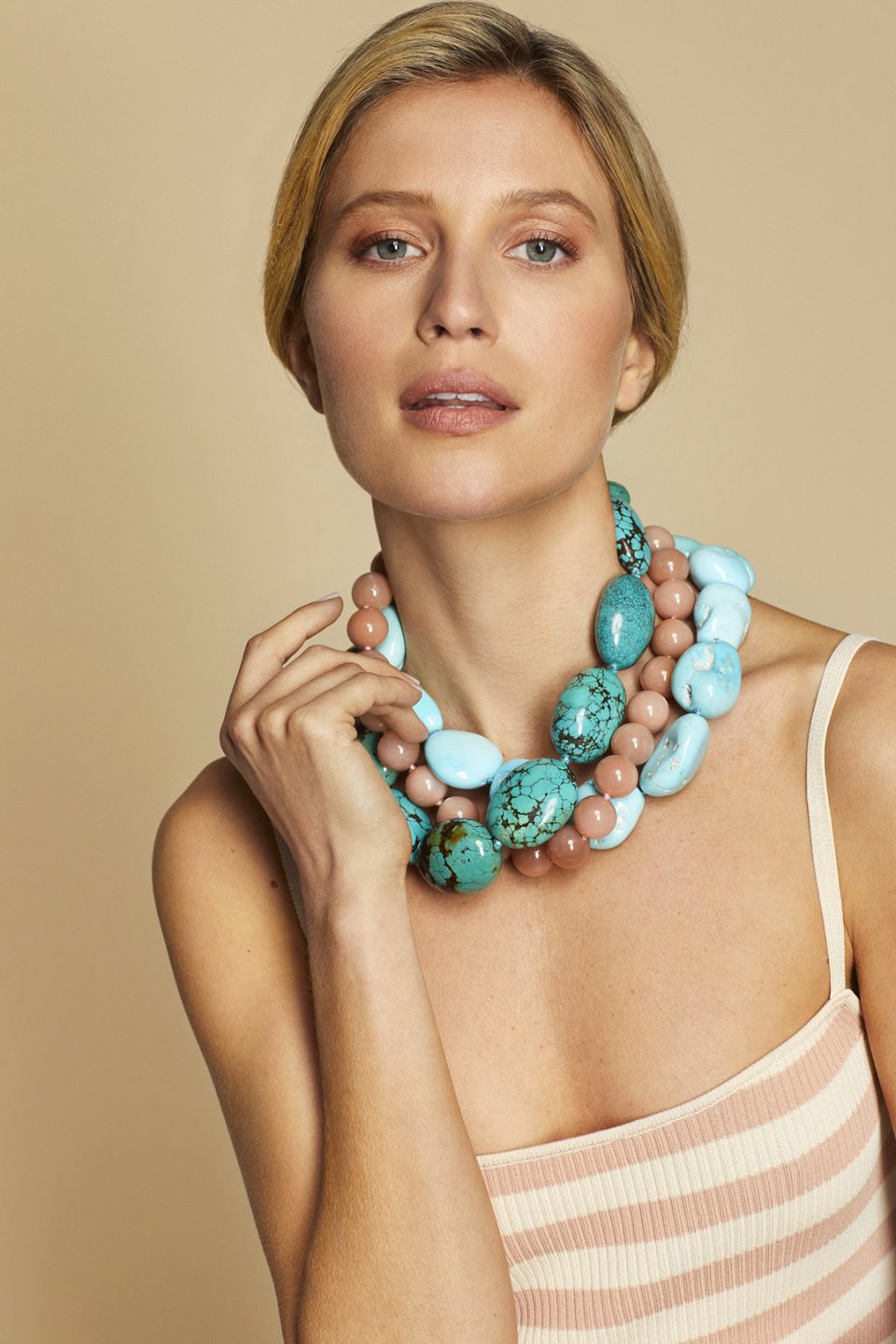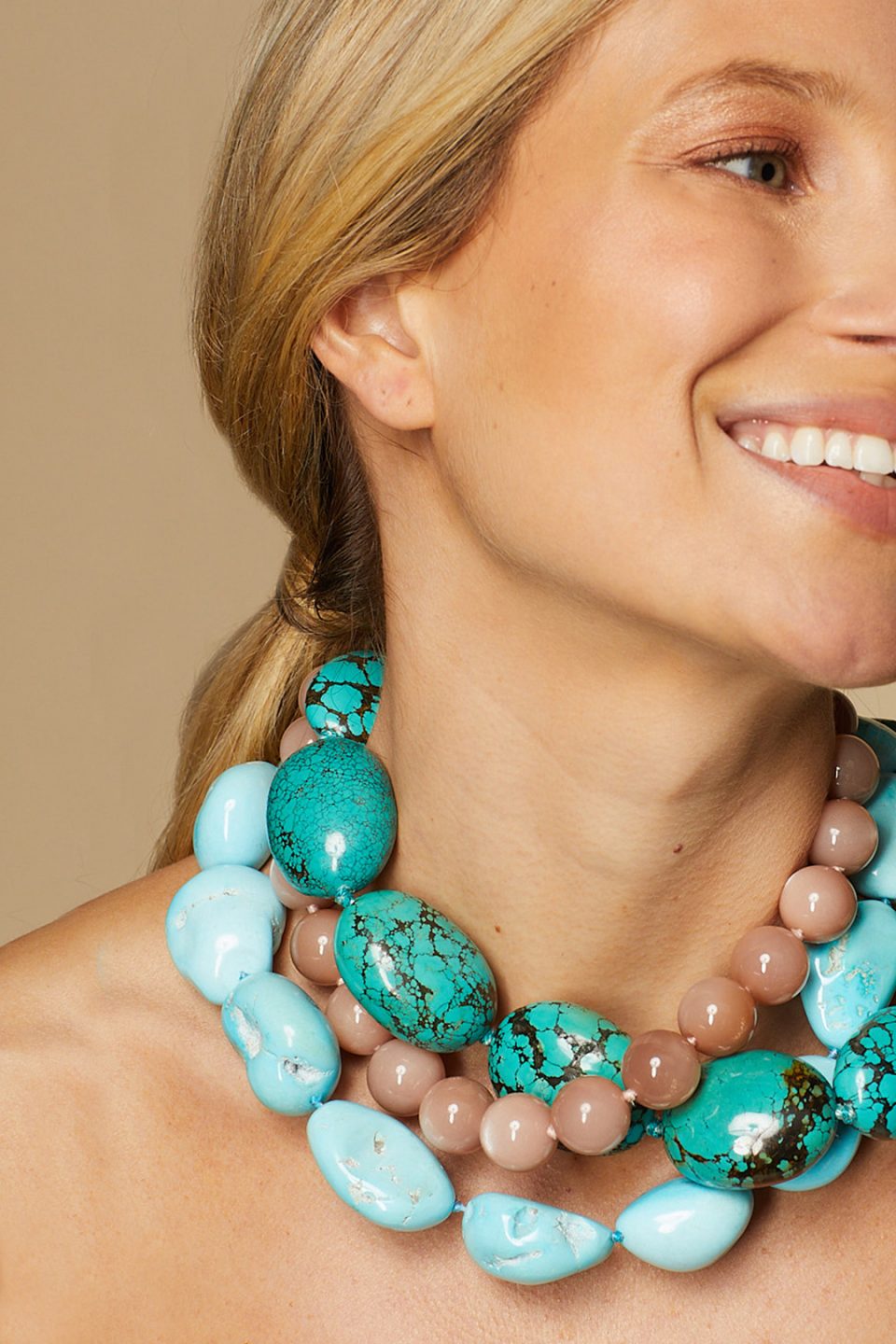 With a sixth sense for stones that yield a major impact, Mish unpacks everything that makes this stone a key collectible.
There is a longtime narrative in jewelry which incorporate rare, important stones. The more difficult the stones were to find, the greater the value. And while this has always applied to our friend the diamond and many other precious gemstones, it's turquoise that's now creeping up as the crown jewel.
The highly-pigmented blue stone was once found in abundance in stone mines in the Southwest. These mines — like the storied Sleeping Beauty Mine — were responsible for some of the best of turquoise in the market. Sleeping Beauty, famous for it's vivid sky blue color without any matrix, has n0w been closed for a decade.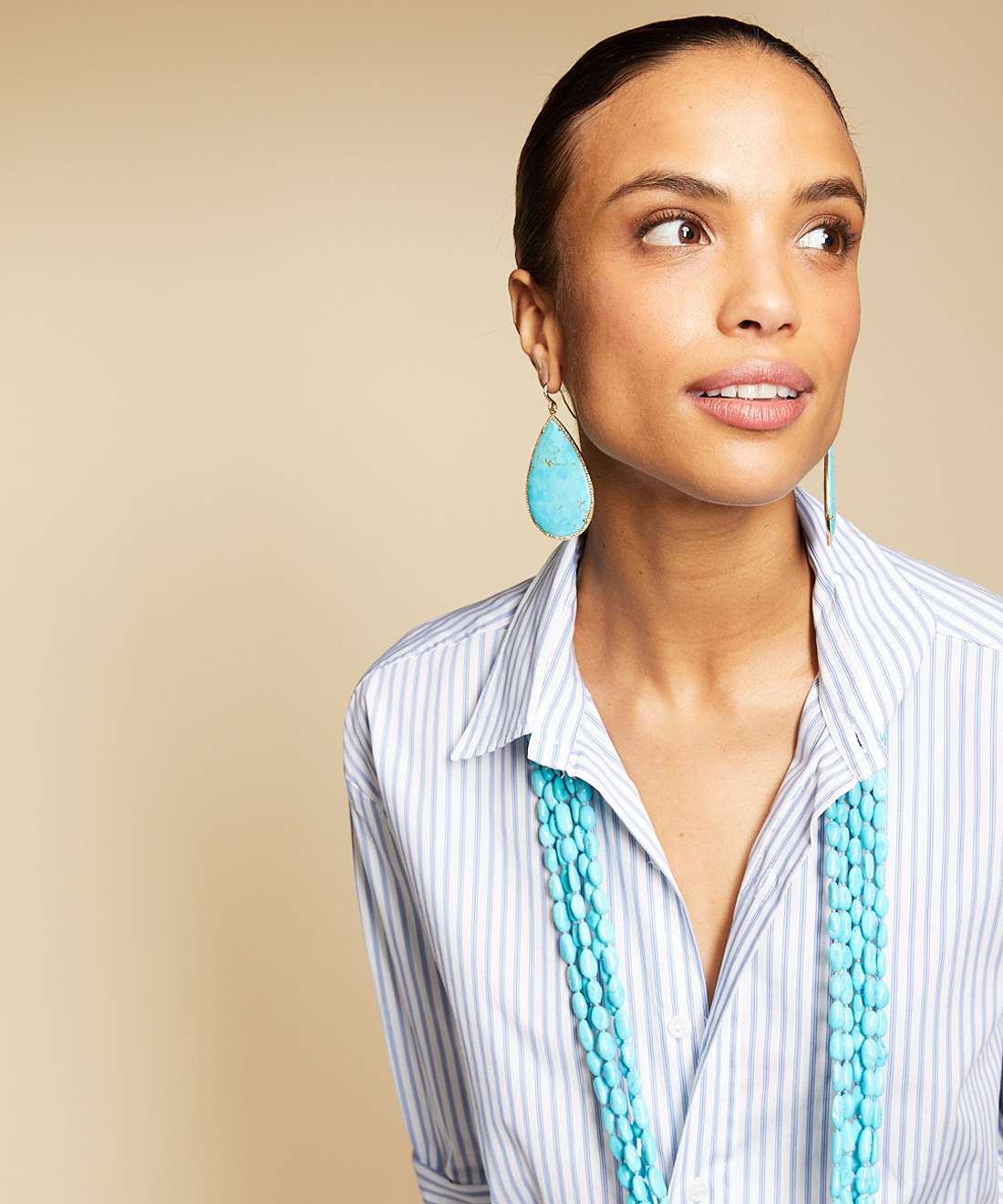 Mish, a diligent stone collector and jewelry insider, has been working with his sources for decades to track down the best stones from Sleeping Beauty and beyond. "Finding beautiful, quality turquoise has become increasingly difficult, but fortunately I have trusted dealers around the world where I find the most exquisite stones," says Mish.
Matching fabulous stones with great design results in some of the most collectible, iconic turquoise pieces in the market. It is here where Mish's incredible eye and talent excel!
Traditional turquoise from the Southwest is typically set in silver, and fine jewelry iterations in white gold. Mish puts his unique twist on the stone by working with yellow gold and often pairing it with unexpected elements, like pearls in his Orbiting Turquoise Necklace. The long, single strand necklace is accented with similarly sized and shaped Keshi pearls intensifying the cool blue tone of the turquoise: "I particularly like the combination of the turquoise and Tahitian Keshi pearls," says Mish. "The luminous silvery grey of the pearls looks amazing next to the incredible opaque blue of the stones."
Trusting the source and the whereabouts of the stone's original location is among the most paramount components when purchasing turquoise jewelry. Unlike diamonds, turquoise does not come with a full GIA report asserting its clarity and cut. Luckily, Mish always has an eye out for the most alluring turquoise and works directly with stone dealers in the United States and Europe to find the best stones. His Makena Earrings feature a beautifully matched set of pure blue turquoise tops and drops that are completely surrounded by light blue sapphires, using the subtlety of their tone to elevate the pigmentation of the turquoise. Other pieces, like the Lexington Earrings, are marked with a graphic matrix (the ink-like pattern that laces through the stone) that are gently highlighted with a light brown diamond pavé border.
Mish's turquoise masterpiece jewels are seasonless. They sing in high summer against white linen, and conjure a more mysterious sentiment when paired with dark jewel tones in winter. The unique vision Mish has for turquoise sets his collection in a league of its own.